Technology Solutions for the Public Sector
We provide a range of omnichannel technology solutions that help public service providers to: 
Effortlessly scale to meet the demands of the UK's growing and aging population

 

Provide flexibility to adapt to significant change, including ongoing government reform

 
Deliver outstanding service within under-pressure budgets.

 
We are proud that the services we deliver have been recognised by a number of accreditations, including Cyber Essentials Plus. For more information, please visit our ESG page.
Managed IT & Cloud Services
Cloud Communications
Cloud Printing & Workflow
Managed IT & Cloud Services
Create a more productive workforce by delivering cloud-based applications and services coupled with effective and secure managed end-user devices. 
Unlock service delivery capacity through the Microsoft Modern Workplace, Power Platform and effective end-user devices

 

Apply private, hybrid and public cloud services to avoid upfront investments in infrastructure and spend more time building and delivering services that are important to your customers

 

Protect public services by predicting, preventing, detecting and responding to security events

 

Our Managed IT se

rvices are delivered via a UK based

Service Desk

who operate 24/7 365 to meet the needs of your organisation.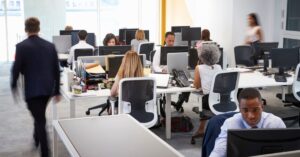 Cloud Communications
Cloud Printing & Workflow
Promoting digital services whilst maintaining a secure and informed stance
Helping you to meet the challenge of Greening Government
We promise to work with you to deliver Social Value together. Central to the Espria core values is our ESG Commitment
You can accelerate your journey to a digitally empowered workspace by engaging us via the following public sector procurement frameworks: 
Case Studies - Delivering Better Outcomes
As a leading independent managed service provider, with Espria, you are in safe hands! Working in collaboration with clients for over 25 years, our expertise has seen us develop flexible and agile solutions that puts your organisations' needs at the forefront.  
Our public sector solutions have been developed to promote innovation and unlock efficiencies across a range of services, such as managed services, compliance services and legal services and reduce ongoing costs for public sector procurement services. Not only that, we ensure our business solutions remain flexible and agile in line with changes to national and regional governmental legislation, ensuring your organisation remains ahead of the curve. 
Cloud services for the public sector bolster collaboration across various departments, such as legal and procurement by providing key data insights, removing traditional silos, automating traditional IT processes and allowing organisations to scale.  
Cloud communications work to allow public sector services to share software tools and applications across a shared network. All data is stored on physical servers hosted by a cloud provider, rather than on a hard drive, allowing users to access information at all times across a range of devices, supporting remote and hybrid working.